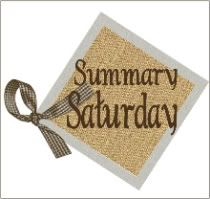 This weeks summary is going to be pretty short. I didn't get to post my week end summary yesterday, so I'm doing it today. I did put together a button (although I'm not sure I'm totally happy with it) and hopefully next week I'll be better prepared and I can make it a blog hop for others who may want to post a summary of their week.

This week was fairly uneventful. Tuesday my hubby started his last semester of seminary. He will be graduating in May! YES! So proud of you honey and all that you have accomplished!!! You are doing a great job!!

This weekend my husband and I were invited to go to a retreat for pastors and their wives. We had a great time. They blessed us with some delicious food and some inspirational speakers. I took a few pictures and I hope to get them posted soon.

On a totally different front I have been really doing well with my exercise this week. I managed to get in four days of at least 30 minutes of cardio, plus I was able to get in some additional exercise while we were gone. We explored a historical sight and we walked all around the grounds at the retreat. I didn't do too bad with my eating this week either. For whatever reason I only managed to loose one pound. But that's ok. I will persevere. Hopefully this week will be better.

Hope everyone else had a great week!