It's time for Five Question Friday. Thanks so much to
Mama M.
for hosting this fun blog hop!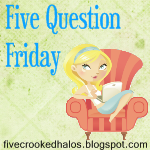 1.
What's your "comfort food"?
That's a really good question to ask right now, seeing how I am soooo very sick! There are so many comfort foods that I love! Right now what sounds really good is ooey gooey - hot out of the oven chocolate chip cookies with a glass of ice cold milk!
2.
Do you send Thank You's (handwritten or email)?
Well...um... I try to. I have the best intentions and the gratitude is definitely there. But I do sometimes forget because life gets so busy and then I feel silly sending them after such a long time.
3.
If you had to be trapped in a TV show for a month, which show would you choose?
I love reality tv. I think my first choice would be What Not to Wear. I'd love to learn how to have better style.


4.
What is your favorite online recipe site?
I just found a blog today that I LOVE. Brandi over at From My Kitchen to Yours does a great job at providing some very simple, but very tasty recipes and meal tips. So glad I found her blog and can't wait to try some of the recipes that I found there!


5. If you had to choose: "Friends" or "Seinfeld"?
Umm... honestly? Neither! I never really became a devoted follower of either. I will watch them on occasion if nothing else is on. I'd have to say "Reba" or "Everybody Loves Raymond." I guess I can relate to those more!
Wanna join in on Five Question Friday? Just grab MckLinky and join the fun!