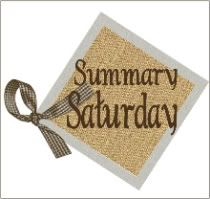 It's Summary Saturday again. This week I am inviting you to join me in posting a bulleted summary of your week. Please be sure to include the button (you can find the code in my sidebar) and remind everyone to hop back over here to see what everyone else has been up to this week.
The week started out great with a fabulous Saints win in the playoffs. We are not originally from Louisiana, but transplanted. We aren't even really football fans. Since we are here we are jumping on the bandwagon to cheer them on. Go Saints!
My oldest son surprised us by asking if he could attend the Prison Ministry that our church does on Sunday nights. Of course we said yes! He said that he really enjoyed it and wants to go back.
Spent the first part of the week carting my daughter to various doctors to try and figure out why she is having pain in her hip and knee. She broke her hip playing softball this summer and has not been very physically active since. Softball started back at school just after the holidays and since then she has had a good amount of pain in that hip and knee. So we took her back to orthopedist and he took x-rays and said everything looks good. He has no idea why she is in pain. He gave us some pain management techniques to follow and we are hoping that the pain will improve as her body adjusts back to this level of physical activity.
On Thursday my oldest got his driver's license. Yikes! Can't believe I'm old enough to have a child that is driving. I'm so not ready for this. Guess it's just one more thing to keep me on my knees!
What happened in your family this week? I'd love to hear! You can share in the comments or link up with Mr. MckLinky below.