It's time to come out with it. The truth that is. Elizabeth, over at
Confessions from a working mom
, has a great question for today.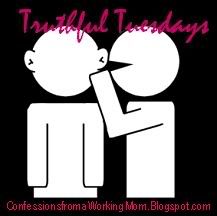 really want for Christmas
that money can't buy?

If I could have anything that money would not buy it would be knowing that my kids are going grow up to be happy, healthy, successful individuals. To know that they are going to be ok. As I've mentioned in previous post(s) we are in the midst of raising teenagers. I thought there was a lot to worry about when my kids were younger. Now there's a whole other set of things to worry and wonder about that I never even realized. The rules have all changed (as a matter of fact I think they change daily, no make that hourly!). The stakes have been upped. While I know that I can't be assured that their lives will end up the way I would like them to, I can be assured that God is going to be with them (& me) no matter what comes along. I can rest in the fact that He loves them even more than I do and He wants the best for them. Most importantly is realizing that His plans for their future is what is important. Knowing the One who holds their future is *almost* as good as knowing the future itself.