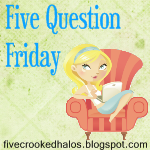 It's time for Five Question Friday again courtesy of Mama M
.
1. Does Santa wrap the presents he leaves at your house?
I actually have a funny story about that. When I was growing up the presents that Santa left were always left unwrapped for me to find when I got up on Christmas morning. My husband grew up with Santa leaving wrapped presents. So we discussed and came to the logical conclusion that my way was the right only way we would do it for our kids. When our oldest son was finally oldest enough to talk and understand about Santa he got up on Christmas morning and exlaimed, "Santa opened ALL my presents!" LOL

2. When is your "big" Christmas celebration...Christmas Eve or Christmas Day? Tell us about it...
We have a big family so we have many Christmas celebrations. We have special times of tradition that we spend every year with every part of our families. I love them all, but the one that is most special to me is when we gather at my grandparents house (which now belongs to my uncle since they have both passed away) and ALL our extended family gathers there. It's like our family reunion and I look forward to it every year. I guess it is special to me because I know it was very special to my grandparents when they were alive.

3.
Are you big on keeping tradition every year?
YES!

4.
Do colored lights or white lights tickle your fancy?
I like both depending on my mood. I always did colored when my kids were smaller, but I've always loved the elegance of a tree with all white lights. Maybe now that they are older (of course when I get a new Christmas tree) I'll try the white lights
5.
Do you decorate outside your house for Christmas?
When I was growing up I always loved having Christmas lights on the outside of the house. I begged my mom every year to put them up. Some years she just didn't get to it because the winter is a busy time of the year for her at her job. When I first got married I strongly encouraged my husband to put up lights, especially when our kids were little. But now that the kids are older we aren't as diligent about getting the house decorated. So I guess the answer is sometimes we do and sometimes we don't.