It's time again for those Five Fun Questions.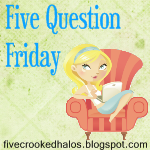 1. Have you ever had a celeb sighting?
Nope.
2. What temperature do you keep your house?
Usually we keep it around 70 degrees.
3. Do you notice dust at other peoples homes?
Not really. I would probably notice clutter more than dust.

4. What's the worst job you ever had?
Umm... well I haven't really had any terrible jobs. There was one that I didn't work at long. It was an accounting position for a company that owned a group of restaurants. What made the job so bad was that the work load they gave me was enough for 2 or maybe even 3 people. There were numerous new software programs that I had to learn and they only gave me 2 days of training and then just threw me in. I don't think the job would have been that bad, the working conditions just made the job unbearable.
5. What is your most sentimental possession?
Wow, this is a tough one. I must be a pretty sentimental person because I have lots of sentimental possessions. This is not the MOST sentimental possession, but definitely one of the top. When I got married my mom took the wedding ring that my dad gave her when they got married (my dad died when I was 7) and had it engraved inside with a sentiment from her and gave it to me.