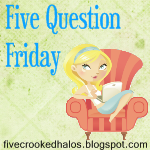 1. What are you most afraid of?
My biggest fear is something happening to my children or my husband. Losing them would be the worst thing I could imagine.
2. Do you use a flat iron or curling iron?
I used to be a curling iron girl. But now? It's straight iron all the way!
3. Hands-free or phone to the ear?
Phone to the ear. I need to try for the hands free thing, but it feels awkward. I could probably get used to it if I tried.
4. Do you have a matching bedroom set?
Yes, I've always loved Cherry Wood and a little while back we splurged on a bedroom set made of Cherry Wood. I am hoping to get a new bedding set for Valentine's Day. Hopefully after that I can post some pics.
5. Do you believe in the paranormal?
I am stealing Cop Mama's answer because she said it so well...
As a Christian, I believe in angels, good and bad. I also believe Jesus is omnipresent. I also believe Satan is at work in this fallen world and that is why prayer is so important.
There you have it. Wanna join in the fun? Just link up!